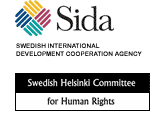 In July 2008, with the financial support of the Swedish Helsinki Committee for Human Rights, CAPC launched the "Anti-Corruption Awareness Raising through Radio Shows" Project. The project lasted until December 2008 and provided for production of a series of 23 shows entitled "Corruption Free Zone", implemented in cooperation with Radio Noroc. Between 1 July and 10 September 2008 the first 12 shows were broadcasted, each Monday and each Wednesday, then these shows were broadcasted each Wednesday, between 19.00-20.00.
Project Overall Objective: Educating intolerance of the general public towards corruption through involvement of the media and of the public officials in raising awareness about the human rights of the corruption victims and granting free legal assistance to them.
Specific Objectives which will contribute to the achievement of the overall objective are:
Dissemination of information and legislative innovations regarding human rights and ways of fulfilling them;
Increasing the transparency of the public authorities to discuss about corruption affecting human rights' fulfilment;
Providing access of the public to free legal assistance in corruption cases affecting human rights' fulfilment.
Every radio show was attended by the CAPC lawyers and by the representatives of public authorities. The radio shows discussed various aspects of the topics addressed and replies were given to the written messages sent by listeners during the show. Throughout the show, listeners were able to call the CAPC hotline to denounce violations they knew and which were related to the topic of the show.